| | |
| --- | --- |
| | |
| Forum moderator: Sieg | |
Seventeen Migs of Spring
no1Z1e
Date: Fr, 27.07.2018, 17:40 | Post # 1

General

Group: Moderators

User #41
Male
Ashqelon
Israel
Reg. 15.12.2013 13:45






Seventeen Migs Of Spring are an electronic music project from Israel, formed in 1999 by K-76 and Andrey Hristichenko. During the 2000 recordings of the debut EP, the project was joined by B-74, and in 2001, Hristichenko left. K-76 and B-74 also collaborated in a techno side project Penetrating Crankshaft. The Seventeen Migs Of Spring later lineup was completed in 2003 by Gurfa, who became the third full time member. In 2007, B-74 was not involved in the project. Almost all Seventeen Migs Of Spring recordings and live performances feature guest appearances.



no1Z1e
Date: Fr, 27.07.2018, 17:42 | Post # 2

General

Group: Moderators

User #41
Male
Ashqelon
Israel
Reg. 15.12.2013 13:45






Seventeen Migs of Spring - Ice (EP) (2006)



no1Z1e
Date: Fr, 27.07.2018, 17:43 | Post # 3

General

Group: Moderators

User #41
Male
Ashqelon
Israel
Reg. 15.12.2013 13:45






Seventeen Migs of Spring - Rezultat (2011)



no1Z1e
Date: Fr, 27.07.2018, 17:44 | Post # 4

General

Group: Moderators

User #41
Male
Ashqelon
Israel
Reg. 15.12.2013 13:45






Moljebka Pvlse & Seventeen Migs of Spring - Ravha / Electricity Gardens (2007)



no1Z1e
Date: Fr, 27.07.2018, 17:45 | Post # 5

General

Group: Moderators

User #41
Male
Ashqelon
Israel
Reg. 15.12.2013 13:45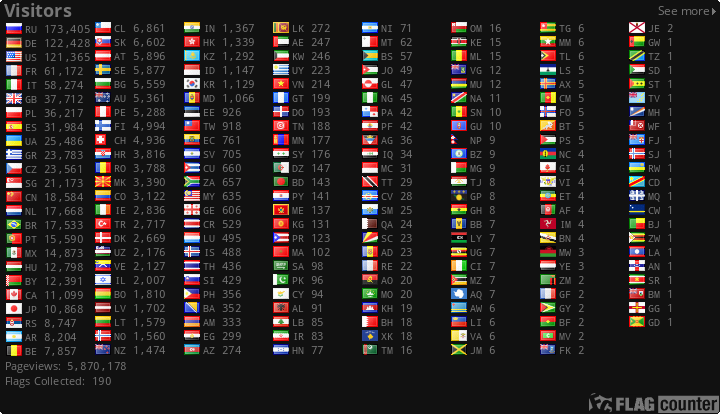 счёт форума в яндекс-деньги - 410012637140977