| | |
| --- | --- |
| | |
| Forum moderator: Sieg | |
Filthskin
no1Z1e
Date: We, 27.06.2018, 22:26 | Post # 1

General

Group: Moderators

User #41
Male
Ashqelon
Israel
Reg. 15.12.2013 13:45






Experimental industrial artist from Belgium



no1Z1e
Date: We, 27.06.2018, 22:50 | Post # 4

General

Group: Moderators

User #41
Male
Ashqelon
Israel
Reg. 15.12.2013 13:45



Filthskin - He Who Breaks Me​,​Shall Come Undone (2018)

Bandcamp (name your price)
no1Z1e
Date: Th, 28.06.2018, 00:31 | Post # 5

General

Group: Moderators

User #41
Male
Ashqelon
Israel
Reg. 15.12.2013 13:45


Интернет-лэйбл NoiseUp представляет новую работу бельгийского индустриального проекта Filthskin. Проект был создан Куртом Космой в бельгийском городе Антверпен в 2015 году и на данный момент имеет в активе 7 полноформатных альбомов и несколько сплитов с коллегами по индустриальной сцене. Автор, на музыкальное мировоззрение которого повлияли как классические индустриальные пионеры, так и мастера ритмического шума и ритуального эмбиента, создаeт разнообразные звуковые коллажи от классического дарк эмбиента до тягучего и мрачного ритмического шума. Новый альбом получил название "Khaos" и включил в себя новые композиции бельгийца в стиле оккультного ритуального эмбиента с элементами death-industrial и шаманского шума. Новая работа выйдет в свет 3 июля для беспланого скачивания на официальном сайте NoiseUp и на странице Bandcamp лэйбла. Noise the world!

Internet-label NoiseUp presents the new work f Belgian industrial musician Filthskin. The project was created by Kurt Cosma in Antwerpen in 2015 and till now Filthskin's discography consists of 7 full-length albums and several splits with industrial colleagues. The artist's music was influenced by industrial pioneers and rhythmic noise musician as well, so the music took everything good from those. Filthskin's soundscapes will lead you through mystic dark ambient up to harsh noise. New album is called "Khaos" and is done in occult ritual ambient with death-industrial and shamanic noise collages. The album will be available for free download on 3rd of July on the official website of NoiseUp and the Bandcamp page of the label. Noise the world!
no1Z1e
Date: Tu, 03.07.2018, 02:52 | Post # 6

General

Group: Moderators

User #41
Male
Ashqelon
Israel
Reg. 15.12.2013 13:45






Filthskin - Khaos (2018)

Label: NoiseUp
Format: Digital Album
Country: Belgium
Style: Industrial Darkwave, Dark Ambient, Death Industrial




Tracklist:

01. Khaos
02. Flesh Collector
03. Worship That-NEVER!
04. Delusional Disorder
05. I'll Never Make It to Heaven
06. Deprived
07. Do You Understand the Horror That's Gonna Float Your Soul



HuSStla
Date: Mo, 22.10.2018, 13:52 | Post # 7

Colonel

Group: Moderators

User #2550

Male

Moscow

Russian Federation

Reg. 03.05.2016 18:50

Семь альбом Filthskin запощенных в данной теме стали платными. Бесплатная загрузка с бендкампа стала недоступна. Бесплатным остался только Khaos. Залил все восемь альбомов на обменники. Последний для перестраховки, а вдруг тоже сменит статус на "Buy Digital Album €5-7 EUR or more".

UPD 22.10.2018 14:32: пришлось повторно перезалить все альбомы из-за устранения недочётов.
Теперь все ссылки рабочие























insomnia
Date: Th, 13.12.2018, 16:32 | Post # 8

General

Group: Uploaders

User #2428
Female


Reg. 24.03.2016 19:53


Filthskin - Insanity (2018)









---

Insomnia
insomnia
Date: Mo, 24.02.2020, 17:39 | Post # 10

General

Group: Uploaders

User #2428
Female


Reg. 24.03.2016 19:53


I AM LEGION-FOR WE ARE MANY Available to users only


---

Insomnia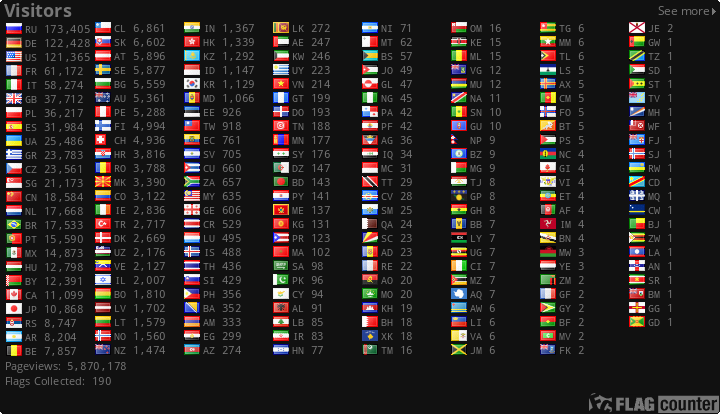 счёт форума в яндекс-деньги - 410012637140977