Dies Natalis
Mekhanizm
Date: Sa, 18.10.2014, 11:20 | Post # 1

Marshall

Group: Admin

User #1

Male

Saint Petersburg

Russian Federation

Reg. 14.12.2013 23:54

Country:

Germany

Location:

-

Status:

Closed 2008

Formed in:

1998

Style:

Neofolk

Last label:

Nielozilla (2008)

Official site:

-

Discogs page:

LastFM popularity:







---
Mekhanizm
Date: Sa, 18.10.2014, 11:23 | Post # 2

Marshall

Group: Admin

User #1

Male

Saint Petersburg

Russian Federation

Reg. 14.12.2013 23:54



Dies Natalis – Abyss (2002)






---
lomin
Date: We, 21.01.2015, 01:42 | Post # 3

General

Group: Moderators

User #55

Male

Reg. 15.12.2013 17:05



Dies Natalis & Friends ‎– The Phoenix Contradiction (2008)


Mekhanizm
Date: We, 21.01.2015, 17:20 | Post # 4

Marshall

Group: Admin

User #1

Male

Saint Petersburg

Russian Federation

Reg. 14.12.2013 23:54



Dies Natalis – Straßen Voller Staub (2003)






---
Mekhanizm
Date: We, 21.01.2015, 17:27 | Post # 5

Marshall

Group: Admin

User #1

Male

Saint Petersburg

Russian Federation

Reg. 14.12.2013 23:54



Dies Natalis – The Bright And The Pure (2004)






---
Mekhanizm
Date: We, 21.01.2015, 17:34 | Post # 6

Marshall

Group: Admin

User #1

Male

Saint Petersburg

Russian Federation

Reg. 14.12.2013 23:54



Dies Natalis – Raunen (1999)






---
Mekhanizm
Date: We, 21.01.2015, 17:40 | Post # 7

Marshall

Group: Admin

User #1

Male

Saint Petersburg

Russian Federation

Reg. 14.12.2013 23:54



Dies Natalis – Vom Gedanken... Und Der Erinnerung (2000)






---
Mekhanizm
Date: We, 21.01.2015, 17:47 | Post # 8

Marshall

Group: Admin

User #1

Male

Saint Petersburg

Russian Federation

Reg. 14.12.2013 23:54



Dies Natalis – Tristan (2003)






---
folker85
Date: Th, 26.02.2015, 21:28 | Post # 9

Soldat

Group: Uploaders

User #119
Male
Moscow
Russian Federation
Reg. 16.12.2013 23:27



я так понимаю, они сейчас в студии, не спеша пишут новый материал (решили возродиться)
Mekhanizm
Date: Th, 26.02.2015, 21:44 | Post # 10

Marshall

Group: Admin

User #1

Male

Saint Petersburg

Russian Federation

Reg. 14.12.2013 23:54




---
folker85
Date: Fr, 27.02.2015, 21:55 | Post # 11

Soldat

Group: Uploaders

User #119
Male
Moscow
Russian Federation
Reg. 16.12.2013 23:27


We go ahead. During the last 24 hours we've been recording a first version of a new song called "Down the Road". As we recording the new album "Men of War" beside our regular work we have to do nightshifts as well. However, we hope that enables us to present the results by the end of this summer in Vinyl and as a cd. To work at the new record is great. It is always breathtaking to watch a project like this growing.
"новости" со страницы Facebook (правда, февраль 2014 г.), но все же...
neftmn
Date: Su, 19.11.2017, 03:45 | Post # 12

Soldat

Group: Users

User #2181
Male


Reg. 29.12.2015 03:37



Thank you! I wish I had learned of this band much earlier.
PsychologischeMobilmachun
Date: Tu, 21.11.2017, 22:55 | Post # 13

Captain

Group: Uploaders

User #3269

Male

Berlin

Reg. 07.01.2017 00:36

Wonderful forgotten Dies Natalis Track:






---

"what matters most is how well you walk through the fire"
― Charles Bukowski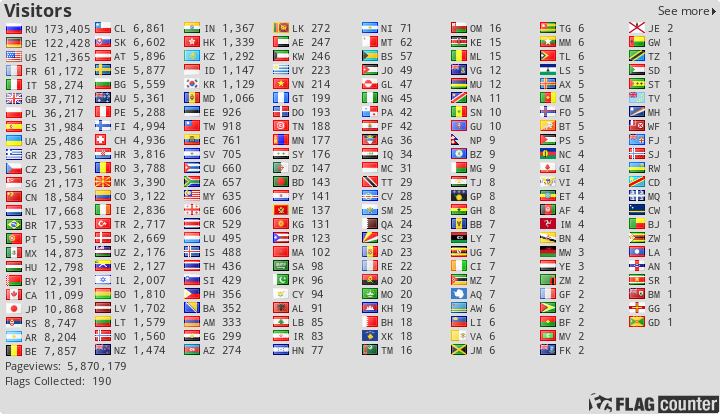 счёт форума в яндекс-деньги - 410012637140977