IRM
Sieg
Date: Sa, 27.09.2014, 17:31 | Post # 1

General

Group: Moderators

User #38

Male

Moscow

Reg. 15.12.2013 13:09



Industrial / Power-Electronics from Norrköping / Sweden.

https://www.facebook.com/IRM.main


---

All my posts only for promotion, please delete your mp3 after listening and buy original cd's/vinyls/tapes.
No reuploads from me, please contact through soulseek.
Soulseek nick WWIII
Sieg
Date: Sa, 27.09.2014, 17:44 | Post # 2

General

Group: Moderators

User #38

Male

Moscow

Reg. 15.12.2013 13:09



IRM – Closure (2014)

Label: Malignant Records – TumorCD82
Format: CD, Album
Country: US
Released: 27 Sep 2014
Genre: Electronic
Style: Industrial, Power Electronics

Tracklist

1 Closure I 4:25
2 Closure II 5:35
3 Closure III 8:49
4 Closure IV 2:34
5 Closure V 6:21
6 Closure VI 2:33
7 Closure VII 7:17
8 Closure VIII 4:13
9 Closure IX 7:57

Credits
Artwork – Martin Bladh
Layout – Karolina Urbaniak
Mastered By – Peter Andersson
Music By – Erik Jarl, Martin Bladh, Mikael Oretoft
Photography By – Karolina Urbaniak









---

All my posts only for promotion, please delete your mp3 after listening and buy original cd's/vinyls/tapes.
No reuploads from me, please contact through soulseek.
Soulseek nick WWIII
nichtig
Date: Th, 02.10.2014, 21:52 | Post # 3

Soldat

Group: Users

User #297

Male

Białystok

Poland

Reg. 31.12.2013 21:10

this is even better than strom.ec ever was!
rottensun
Date: Tu, 07.10.2014, 05:30 | Post # 4

Civil

Group: Users

User #953
Male
Philadelphia
United States
Reg. 06.10.2014 05:14


I'll post this here since Sweden has been brought up. Does anyone out there have access to any of Kristian Olsson's
Ghoulbog material? Any help in acquiring it would be greatly appreciated.
Mekhanizm
Date: Sa, 21.03.2015, 19:05 | Post # 5

Marshall

Group: Admin

User #1

Male

Saint Petersburg

Reg. 14.12.2013 23:54

Quote

21st March 2015

IRM – Closure

Between his solo work and his long-running careers in both IRM and Skin Area, Martin Bladh has become a sort of tour guide of liminal states. While noise is abundant with artists whose work could be described as both personal and horrific, Bladh has consistently pushed the definitions of both terms to unsettling conclusions. His discography is rife with monologues of accidental death and murder; meditations on body anxiety, and disorienting fugues that seem to pull directly from the artist's dreams. Though never exactly shying from the genre's pet themes of serial murder and sexual violence, Bladh has always managed to place a hypnagogic filter over his narratives, resulting in a sound that is as unusual as it is upsetting.

From the first jarring moments of Closure, it's apparent that IRM has no intention of compromising. This is an album about dissolution; the disintegration of time and the body alike. The trio of Bladh, Erik Jarl, and Mikael Oretoft are joined by cellist Jo Quail and drummer Ulrik Nilsson to present the final act in a trilogy beginning with 2008's Indications of Nigredo. Closure draws a painful, if not baffling, conclusion to the narrative, shying away from the traditional industrial and dark ambient aspects of Indications… in favor of more brutal tactics.

Despite the swirling pandemonium of electronic noise and Quail's droning strings, Closure is first and foremost a vocal album. Dreamlike spoken-word pieces, however buried, infiltrate each of the numbered tracks. Someone is sobbing (or laughing) as Bladh dispassionately describes murdering his doppelganger; clocks tick and music boxes fade in and out. Though the vocals are often obscured by a rather silly flange effect, Bladh's singular shriek returns again and again, jolting the listener out of any introspective state they might have wandered into. A lulling, emotionless voice reads off a seemingly endless list of negative personality traits before plunging into the dizzying hell of Track Four; perhaps the album's finest moment. Nilsson's percussion is immense and ever-present, heightening a tension that becomes, at times, overwhelming. Each numbered track swells with discomfort, pointing back at the listener with self-loathing and accusation.

While Closure is abrasive in all the ways we've come to expect from IRM, its real power lies in its ambiguity. The over-the-top imagery conjured through blistering noise and spoken word is often vague and puzzling, yet disturbingly familiar to anyone who has ever had a really bad—or really good—nightmare.

Rating: 8/10

Written by: Rebecca C. Brooks

http://heathenharvest.org/2015/03/21/irm-closure/




---
Mekhanizm
Date: Mo, 23.03.2015, 11:00 | Post # 6

Marshall

Group: Admin

User #1

Male

Saint Petersburg

Reg. 14.12.2013 23:54

IRM – The Green Tape (1998)

Label: Grungenazi Development – none
Format: Cassette, Single Sided, Limited Edition, Numbered
Country: Sweden
Released: 1998
Genre: Electronic
Style: Industrial, Power Electronics






---
Sieg
Date: Fr, 22.05.2015, 20:38 | Post # 7

General

Group: Moderators

User #38

Male

Moscow

Reg. 15.12.2013 13:09



IRM ‎– Red Album

Label: Cold Meat Industry ‎– CMI.73
Format: Vinyl, LP, Album, Limited Edition, Numbered, Pink
Country: Sweden
Released: Sep 1999
Genre: Electronic
Style: Industrial, Power Electronics, Noise

Tracklist
A1 Some Inner Domain 4:55
A2 Powerdrill 4:23
A3 Unconscious 3:56
A4 Soulcleaner 4:29
B1 Martyr 2000 4:49
B2 Katharsis 5:50
B3 R.S. 7:33
Credits

Mastered By – Peter Andersson
Performer [Staff] – MB*
Performer [Staff], Mixed By – EJ*
Producer – RNK*

Notes
Recorded November to December 1998.
Limited edition of 700 hand-numbered copies, 400 on black vinyl (see Red Album) and 300 on pink vinyl [this entry]. Comes with a two-sided 12" x 12" insert.






---

All my posts only for promotion, please delete your mp3 after listening and buy original cd's/vinyls/tapes.
No reuploads from me, please contact through soulseek.
Soulseek nick WWIII
Sieg
Date: Fr, 22.05.2015, 20:39 | Post # 8

General

Group: Moderators

User #38

Male

Moscow

Reg. 15.12.2013 13:09



IRM ‎– Oedipus Dethroned

Label: Cold Meat Industry ‎– CMI.87
Format: CD, Album
Country: Sweden
Released: 2000
Genre: Electronic
Style: Industrial, Power Electronics

Tracklist
1 The Celebration Of The Untouched Skin 9:29
2 Oedipus Dethroned 6:10
3 The Disease 5:35
4 The Stage-Surgeon 5:20
5 Inside The Skull Of A Mannequin 5:39
6 The Wound 4:39
7 The Stage 5:31
8 The Crucifixion (The Final Stage) 7:26
Credits

Performer – EJ*, MB*

Notes
First 2000 copies come with a cardboard slipcase around the jewelcase. Comes with 12-page booklet.
Recorded autumn / winter 1999.






---

All my posts only for promotion, please delete your mp3 after listening and buy original cd's/vinyls/tapes.
No reuploads from me, please contact through soulseek.
Soulseek nick WWIII
Sieg
Date: Fr, 22.05.2015, 20:41 | Post # 9

General

Group: Moderators

User #38

Male

Moscow

Reg. 15.12.2013 13:09



IRM ‎– Four Studies For Crucifixion

Label: Cold Meat Industry ‎– CMI119
Format: Vinyl, 10", Limited Edition, 33 ⅓ RPM
Country: Sweden
Released: 19 Nov 2002
Genre: Electronic
Style: Industrial, Power Electronics, Noise

Tracklist
A1 Untitled 4:20
A2 Untitled 4:54
B1 Untitled 3:53
B2 Untitled 4:11
Credits

Artwork – Martin Bladh
Mixed By, Producer – IRM, Peter Andersson
Recorded By – Erik Jarl, Martin Bladh

Notes
Limited to 700 copies. Comes in a gatefold-sleeve.
Recorded mid 2000 in Norrköping.






---

All my posts only for promotion, please delete your mp3 after listening and buy original cd's/vinyls/tapes.
No reuploads from me, please contact through soulseek.
Soulseek nick WWIII
Sieg
Date: Fr, 22.05.2015, 20:43 | Post # 10

General

Group: Moderators

User #38

Male

Moscow

Reg. 15.12.2013 13:09



IRM / Skin Area ‎– IRM / Skin Area

Label: Segerhuva ‎– SEGER 5
Format: Vinyl, 10", 33 ⅓ RPM, EP, Limited Edition
Country: Sweden
Released: May 2002
Genre: Electronic
Style: Industrial, Noise, Ambient, Power Electronics

Tracklist
A –Skin Area Red Eruption / Red Discharge 14:18
B –IRM Purple Screen 12:30

Notes
A: © Skin Area
B: © IRM

Limited edition of 500 copies.






---

All my posts only for promotion, please delete your mp3 after listening and buy original cd's/vinyls/tapes.
No reuploads from me, please contact through soulseek.
Soulseek nick WWIII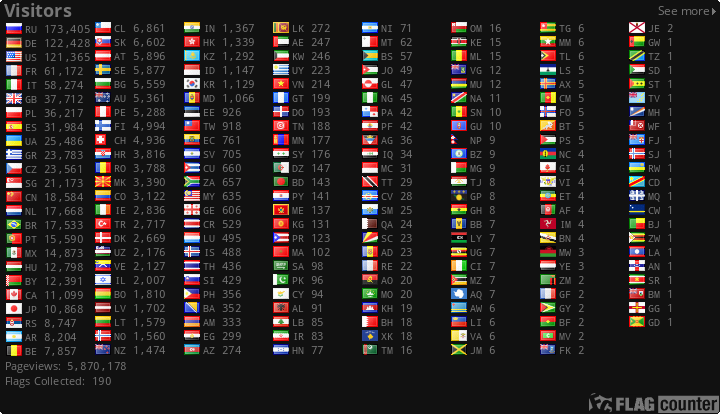 счёт форума в яндекс-деньги - 410012637140977