| | |
| --- | --- |
| | |
| Forum moderator: Sieg | |
Operation Cleansweep
Sieg
Date: Mo, 25.08.2014, 18:25 | Post # 2

General

Group: Moderators

User #38

Male

Moscow

Reg. 15.12.2013 13:09



Operation Cleansweep ‎– Deathcount

Label: Kaos Kontrol ‎– K\K 011
Format: Vinyl, 7", 33 ⅓ RPM, Limited Edition
Country: Finland
Released: 2003
Genre: Electronic
Style: Industrial, Power Electronics

Tracklist

A1 Operation Cleansweep Receiving Center 2:55
A2 Deathcount 4:59
B1 Brighter Than God 3:30
B2 Novis Orbis Terrarum 4:15

Notes
Limited to 500 copies.






---

Industrial/Noise magazines
Soulseek nick WWIII
Sieg
Date: Mo, 25.08.2014, 18:27 | Post # 3

General

Group: Moderators

User #38

Male

Moscow

Reg. 15.12.2013 13:09



Operation Cleansweep ‎– Powerhungry

Label: Tesco Organisation ‎– TESCO 028
Format: Vinyl, LP, Album, Limited Edition, Numbered
Country: Germany
Released: Jun 1996
Genre: Electronic
Style: Industrial, Power Electronics

Tracklist

A1 White Patriots 10:43
A2 Lesson 1 6:05
A3 Crying Blood 7:18
B1 Can You Wake Up? 3:54
B2 Fuck Your Brains Out 5:44
B3 Powerhungry 14:17

Notes
Edition of 500 handnumbered copies.






---

Industrial/Noise magazines
Soulseek nick WWIII
Sieg
Date: Mo, 25.08.2014, 18:34 | Post # 4

General

Group: Moderators

User #38

Male

Moscow

Reg. 15.12.2013 13:09



Operation Cleansweep ‎– JerUSAlem

Label: Tesco Organisation ‎– TESCO 044
Format: Vinyl, LP, Mini-Album, Limited Edition
Country: Germany
Released: 2001
Genre: Electronic
Style: Industrial, Power Electronics

Tracklist

Bel
A1 House Of His Promise 5:59
A2 Invisible Empire 4:29
A3 YHWH's Law 4:52

Herodach
B1 The Light Of The World 4:40
B2 White Father 4:05
B3 Days Of Captivity 6:19

Notes
Limited to 400 copies on black vinyl (this).
Also a edition in bronze vinyl exists (400 copies).
Recorded between 1996 and 1999.
Track B3 is misspelled as "Days Of Capitivity".












---

Industrial/Noise magazines
Soulseek nick WWIII
Sieg
Date: Mo, 25.08.2014, 18:38 | Post # 5

General

Group: Moderators

User #38

Male

Moscow

Reg. 15.12.2013 13:09



Operation Cleansweep ‎– Munich 18/08/2002 - Propaganda For A New Century

Label: Xn Recordings ‎– XNR 008
Format: Vinyl, LP, Limited Edition, Numbered, Red
Country: Italy
Released: Nov 2003
Genre: Electronic
Style: Industrial, Power Electronics

Tracklist

A1 The Call To Die
A2 YHWH's Law
A3 Invisible Empire
A4 Bloodface
A5 Tarpat

B1 The Many
B2 Novis Orbis Terrarum
B3 Lesson 1
B4 Fuck Your Brains Out

Notes
Limited edition of 486 handnumbered copies. Clear red vinyl in special package, rough cardboard folder sleeve, openable on the back, sealed with a debossed naval iron plate. Brown cover with a golden number.








---

Industrial/Noise magazines
Soulseek nick WWIII
Sieg
Date: Mo, 25.08.2014, 18:40 | Post # 6

General

Group: Moderators

User #38

Male

Moscow

Reg. 15.12.2013 13:09



Anenzephalia / Inade / Operation Cleansweep ‎– Untitled

Label: Teito Sound Company ‎– TEITO-006
Format: CD, Album
Country: Japan
Released: 21 Mar 2006
Genre: Electronic
Style: Dark Ambient, Industrial, Power Electronics

Tracklist

1 –Anenzephalia Weltgleichschaltung 2006 10:29
2 –Inade Asteroid Probe 6:34
3 –Inade 3 Million Minds 4:57
4 –Operation Cleansweep Japan 5:07
5 –Operation Cleansweep Untitled 4:58

Credits

Artwork – Yoshihiro Nakano

Notes
Includes 3 small infocards, one for each band. Comes in a special plastic box.








---

Industrial/Noise magazines
Soulseek nick WWIII
rayarcher67
Date: Tu, 07.08.2018, 15:48 | Post # 7

General

Group: Uploaders

User #2232
Male


Reg. 16.01.2016 14:37




Operation Cleansweep – Release Now! Apathy Induction (2018)


zobero
Date: Tu, 07.08.2018, 20:32 | Post # 8

Lieutenant

Group: Uploaders

User #4396
Male
Saint Petersburg
Russian Federation
Reg. 08.03.2018 09:24




Download not available
This file can not be downloaded because there was a problem with the upload. If possible, contact the person uploading the file to ask them to upload it again.
rayarcher67
Date: We, 08.08.2018, 12:51 | Post # 9

General

Group: Uploaders

User #2232
Male


Reg. 16.01.2016 14:37


new upload for above

Available to users only
Sieg
Date: We, 15.04.2020, 11:17 | Post # 10

General

Group: Moderators

User #38

Male

Moscow

Reg. 15.12.2013 13:09



Operation Cleansweep ‎– Release Now! Hungry For Power

Label: Tesco Organisation ‎– TESCO 134
Format: CD, Album, Reissue, Digipak
Country: Germany
Released: 06 Jan 2020
Genre: Electronic
Style: Industrial, Power Electronics

Tracklist
1 White Patriots 11:34
2 Lesson 1 7:13
3 Crying Blood 7:28
4 Can You Wake Up? 6:05
5 Fuck Your Brains Out 14:58
6 Powerhungry 15:26
7 Blood Is Tripping From Our Hands 12:38






---

Industrial/Noise magazines
Soulseek nick WWIII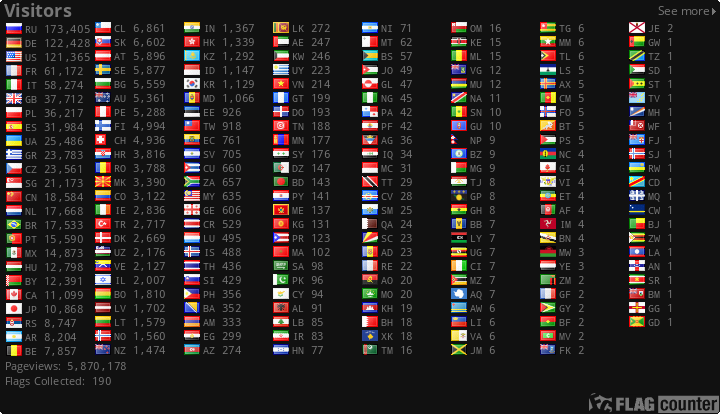 счёт форума в яндекс-деньги - 410012637140977