Control
Mekhanizm
Date: Th, 13.09.2018, 13:15 | Post # 31

Marshall

Group: Admin

User #1

Male

Saint Petersburg

Reg. 14.12.2013 23:54



Control – Blood Will Rain (2018)






---
orfeuss
Date: We, 26.09.2018, 08:42 | Post # 32

Sergeant

Group: Uploaders

User #287

Male

Arkhangelsk

Russian Federation

Reg. 29.12.2013 18:48

Сочный материал получился.
no1Z1e
Date: Fr, 02.11.2018, 13:36 | Post # 33

General

Group: Moderators

User #41
Male
Ashqelon
Israel
Reg. 15.12.2013 13:45



Control • Genevieve Pasquier • Kommando - Cold War, Hot Love (2018)


Quote

the initial concept for this one-of-a-kind collaboration was formed back in 2013 when geneviéve pasquier, dan courtman (kommando) and thomas garrison (control) had the idea for a mutual release after meeting in person. after some years of recording, the transcontinental exchange of material and ideas, processing, texturing and construction of the eight tracks, they are finally available now on both vinyl and digital format.

'cold war, hot love' - the album title contains the contrast as well as the common ground for this united venture in which three individual projects integrate their individual force to achieve an unmistakable, massive commixture. while each track shows a different face, there is always an audible leitmotif throughout the entire release. distinct elements of power electronics, post-industrial soundscapes and repetitive minimal sequences are precisely set up to form to a whole unit. hypnotic beats, atmospheric, processed industrial noises and manipulated vocals generate a multiplicity of conflicting moods ranging between aggression and paralyzing states of trance.

the commonality between love and war when it comes to intensity and depth is unquestionable - with this oeuvre, geneviéve pasquier, control and kommando have managed to perfectly illustrate it.



Alexnoise
Date: We, 18.09.2019, 13:36 | Post # 34

Civil

Group: Users

User #5711
Male
Moscow
Russian Federation
Reg. 29.01.2019 15:29



Hi! Please, re-uploade "Over Maschinenfest, Paris And Berlin". Links are dead
Tears_Of_Flesh
Date: Tu, 14.04.2020, 18:08 | Post # 35

Soldat

Group: Readonly

User #1685
Male


Reg. 28.06.2015 19:01


Sieg
Date: Th, 26.08.2021, 19:12 | Post # 36

General

Group: Moderators

User #38

Male

Moscow

Reg. 15.12.2013 13:09



Control – Over Maschinenfest Part III - 2018

Label: Raubbau – raub-084, Pflichtkauf – pflicht 092, Raubkauf – none
Format: 6 x File, MP3, Album, 320 kbps
Country: Germany
Released: Jun 23, 2021
Genre: Electronic
Style: Industrial, Power Electronics

Tracklist
1 The Black Acts 6:35
2 Natural Selection 6:21
3 Blood Will Rain 7:19
4 The Survival Of It 6:13
5 All The Chosen Call 7:21
6 World Of Lies Part 2 4:33






---

All my posts only for promotion, please delete your mp3 after listening and buy original cd's/vinyls/tapes.
No reuploads from me, please contact through soulseek.
Soulseek nick WWIII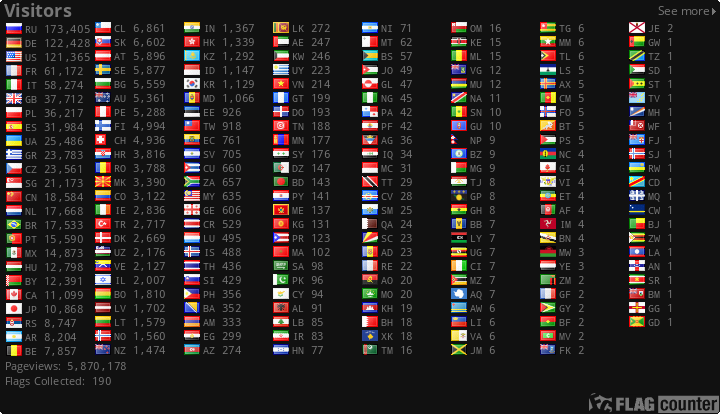 счёт форума в яндекс-деньги - 410012637140977