Stahlschlag
no1Z1e
Date: We, 17.01.2018, 18:29 | Post # 1

General

Group: Moderators

User #41
Male
Ashqelon
Israel
Reg. 15.12.2013 13:45




The STAHLSCHLAG Industrial - Power Noise - Project was founded in February 2006. In 2007 it signed with the US-Label Telegrammetry/Hypervoxx. Between 2006 and 2009 some songs took part on various compilations like Extreme Sündenfall and Extreme Störfrequenz. The style of STAHLSCHLAG can be described as a mix of Industrial, Noise and Ambient sounds.

no1Z1e
Date: We, 17.01.2018, 18:32 | Post # 2

General

Group: Moderators

User #41
Male
Ashqelon
Israel
Reg. 15.12.2013 13:45






Stahlschlag - Kraftwandler (EP) (2006)

Label: Self-Released
Format: EP
Country: Germany
Style: Rhythmic Noise




Tracklist:

01. Funktstörung
02. Teufelswerk
03. Illusion
04. Stahl
05. Kollateralschaden



no1Z1e
Date: We, 17.01.2018, 18:35 | Post # 3

General

Group: Moderators

User #41
Male
Ashqelon
Israel
Reg. 15.12.2013 13:45






Stahlschlag - Acousticophobie (2007)

Label: Hypervoxx Recordings
Format: CDr, Album
Country: Germany
Style: Rhythmic Noise




Tracklist:

01. Routine
02. Echolalie
03. Wut
04. Maschinendynamik
05. Klanglehre
06. Wunschkonzert
07. Generator
08. Werksunfall
09. Echolot
10. Stahl
11. Teufelswerk
12. Toxisch



no1Z1e
Date: We, 17.01.2018, 18:38 | Post # 4

General

Group: Moderators

User #41
Male
Ashqelon
Israel
Reg. 15.12.2013 13:45






Stahlschlag - Antropocene (2009)

Label: Hypervoxx Recordings
Format: CD, Album
Country: Germany
Style: Industrial, Rhythmic Noise




Tracklist:

01. Automatismus (Intro)
02. Virus X0308
03. Akute Netzstoerung
04. Fuck The Machine
05. Lustseuche
06. Stahlmagnat
07. Remember The Noise
08. Hades
09. Statisches Rauschen
10. Hoax
11. Endzeit



no1Z1e
Date: We, 17.01.2018, 18:39 | Post # 5

General

Group: Moderators

User #41
Male
Ashqelon
Israel
Reg. 15.12.2013 13:45






Stahlschlag - Attacke! (2012)

Label: Self-Released
Format: Album
Country: Germany
Style: Rhythmic Noise




Tracklist:

01. Automatic Transfer Mode
02. Repetitive Strain Injury
03. Biomechanik
04. Perma Ice
05. 7G
06. 220212
07. Tanz Des Terrors
08. Supernova
09. Dios Mio
10. Brainkiller
11. Noisewaste
12. Moksha
13. Nocemus



no1Z1e
Date: We, 17.01.2018, 18:41 | Post # 6

General

Group: Moderators

User #41
Male
Ashqelon
Israel
Reg. 15.12.2013 13:45






Stahlschlag - Average Aggressive (2CD) (2013)

Label: Self-Released
Format: 2xCD, Album
Country: Germany
Style: Industrial, Rhythmic Noise




Tracklist:

CD1:
01. Zeitlos
02. Current State Of Play
03. What If
04. Roots
05. State Of The Art
06. Chaoskampf
07. The Utility Of Meditation
08. Short Trip
09. Cold Region
10. Mind And Matter
11. Der Clown
12. Solipsism
13. Binary People
14. Stuff In Life

CD2 (The Remixes):
01. What If (Was Wenn Remix by Toxic Green)
02. Stuff In Life (KampfBereit Remix)
03. Stuff In Life (The Tear Party Remix)
04. What If (Video Mix By STAHLSCHLAG)
05. Stuff In Life (H.W. Mix By HardwareEST)
06. Mind And Matter (Dirty K's There Is A Party In My Mouth And Everyone Is Being Sick Remix)
07. Stuff In Life (=mp45= Remix)
08. Short Trip (Poisonous Snout Version By elektrosniper)
09. Chaoskampf (Sonitus Niger Remix)
10. What If (It Was Maschine Mix By HardwareEST)
11. Mind And Matter (Bitch Per Minute Remix)
12. Chaoskampf (Destructed By Ðetuned Ðestruction)
13. Stuff In Life (X0ks RmX)
14. Short Trip (Exterminate Remix By elektrosniper)



no1Z1e
Date: We, 17.01.2018, 18:42 | Post # 7

General

Group: Moderators

User #41
Male
Ashqelon
Israel
Reg. 15.12.2013 13:45




Stahlschlag - Aftermath (2016)


no1Z1e
Date: Fr, 28.09.2018, 01:09 | Post # 8

General

Group: Moderators

User #41
Male
Ashqelon
Israel
Reg. 15.12.2013 13:45



Stahlschlag - Freizeitlarm (2018)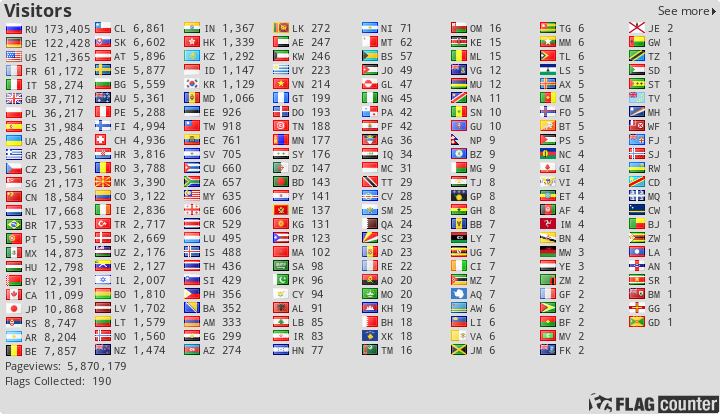 счёт форума в яндекс-деньги - 410012637140977