| | |
| --- | --- |
| | |
| Forum moderator: Sieg | |
Spasm
rayarcher67
Date: Mo, 21.05.2018, 15:45 | Post # 1

General

Group: Uploaders

User #2232
Male


Reg. 16.01.2016 14:37


SPASM is:
Mark Spybey of Dead Voices on Air
Eric Pounder of Pounder & Lab Report
Martin Atkins of Pigface
Satan
Curse Mackey of Evil Mothers

Spasm ‎(CD, Album) Invisible INV 048 CD 1995
Smear ‎(CD) Invisible INV 074 CD 1997

https://www.discogs.com/artist/149721-Spasm-5
rayarcher67
Date: Mo, 21.05.2018, 15:47 | Post # 2

General

Group: Uploaders

User #2232
Male


Reg. 16.01.2016 14:37




Spasm – Spasm (1995)


CTenaH_Pa3uH
Date: Tu, 22.05.2018, 12:15 | Post # 3

Gefreiter

Group: Uploaders

User #112

Male

Kharkiv

Ukraine

Reg. 16.12.2013 19:44

Unfortunately my archiver is unable to open the archive due to it is "incomplete or corrupt"
That's a big problem for me cause I wanted to listen to this album for ages. Could you please reupload it? If it is possible of course.
rayarcher67
Date: We, 23.05.2018, 20:13 | Post # 4

General

Group: Uploaders

User #2232
Male


Reg. 16.01.2016 14:37



Unfortunately my archiver is unable to open the archive due to it is "incomplete or corrupt" That's a big problem for me cause I wanted to listen to this album for ages. Could you please reupload it? If it is possible of course.



Hi, I just downloaded and opened the file it is opening ok, try opening the file with Winrar program that s what it was compressed with
Mekhanizm
Date: Fr, 25.05.2018, 00:30 | Post # 5

Marshall

Group: Admin

User #1

Male

Saint Petersburg

Reg. 14.12.2013 23:54

CTenaH_Pa3uH, добавил ссылку на прямую закачку. а так, да, этот медиафайр такой, бывает битые архивы скачиваются, тут как повезёт.


---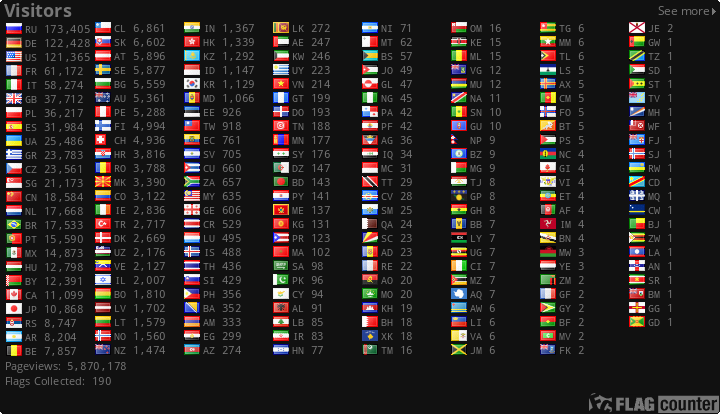 счёт форума в яндекс-деньги - 410012637140977