Ludola
Mekhanizm
Date: Su, 19.10.2014, 22:36 | Post # 1

Marshall

Group: Admin

User #1

Male

Saint Petersburg

Russian Federation

Reg. 14.12.2013 23:54

Country of origin:

Poland

Location:

Myśliczyn

Status:

Active

Formed in:

2010

Style:

Neofolk

Last label:

Bunkier Productions (2013)

Official site:

Discogs page:

LastFM popularity:







---
Mekhanizm
Date: Su, 19.10.2014, 22:39 | Post # 2

Marshall

Group: Admin

User #1

Male

Saint Petersburg

Russian Federation

Reg. 14.12.2013 23:54

Ludola – Przedwiośnie (2011)

Label: Bunkier Productions – BXVI
Format: CDr, Limited Edition
Country: Poland
Released: 21 Nov 2011
Genre: Brass & Military, Folk, World, & Country
Style: Military, Folk








---
Mekhanizm
Date: Tu, 10.11.2015, 20:10 | Post # 3

Marshall

Group: Admin

User #1

Male

Saint Petersburg

Russian Federation

Reg. 14.12.2013 23:54

Ludola – Rogate Czapki, Rogate Serca (2012)

Label: Bunkier Productions – BXX
Format: CD
Country: Poland
Released: 26 Sep 2012
Genre: Electronic
Style: Neofolk








---
Mekhanizm
Date: Tu, 10.11.2015, 20:14 | Post # 4

Marshall

Group: Admin

User #1

Male

Saint Petersburg

Russian Federation

Reg. 14.12.2013 23:54

Ludola – Świat Był Piękniejszy Tego Lata (2013)

Label: Bunkier Productions – BXXI
Format: CD
Country: Poland
Released: 07 Aug 2013
Genre: Rock, Brass & Military, Folk, World, & Country
Style: Neofolk, Acoustic








---
Mekhanizm
Date: Tu, 10.11.2015, 20:21 | Post # 5

Marshall

Group: Admin

User #1

Male

Saint Petersburg

Russian Federation

Reg. 14.12.2013 23:54

Ludola – Ostatni Mazur (2013)

Label: Not On Label (Ludola Self-released) – none
Format: File, FLAC
Country: Poland
Released: 22 Jan 2013
Genre: Brass & Military, Folk, World, & Country
Style: Military, Folk








---
nonial
Date: We, 16.11.2016, 01:19 | Post # 7

Gefreiter

Group: Users

User #547
Male
Budapest
Hungary
Reg. 23.03.2014 23:59



This album is very good. I haven't heard this band before, it was nice surprise/discover for me (like Solblot some years ago, and it reminds me of Solblot a little bit as well). With some additional instruments (more piano, more drums, a little accordion) it would be even better, but also good as it is. I think I should check their older releases as well.
sonnenatale
Date: Fr, 18.11.2016, 19:15 | Post # 10

Captain

Group: Uploaders

User #784

Male

Reg. 24.08.2014 15:24

I have bought an album on bandcamp.
Saoirse
Date: Th, 05.01.2017, 17:13 | Post # 11

Soldat

Group: Users

User #454

Male

Riqqān

Algeria

Reg. 10.02.2014 03:11

I am looking for something like Ludola or Ugniavijas but in Russian instead of Polish or Lithuanian. I like mandolas or balalaikas and stuff. Can anybody recommend something?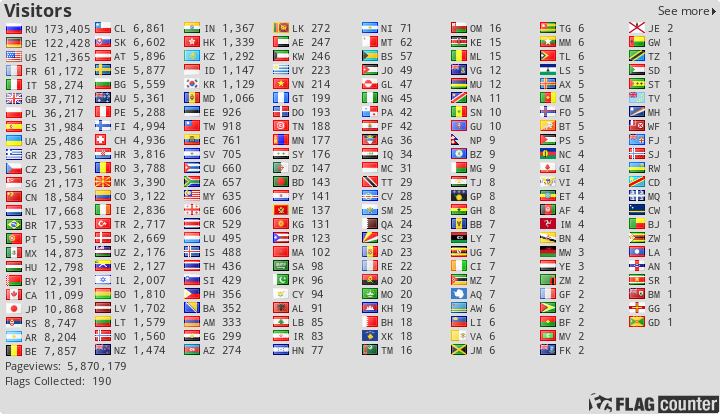 счёт форума в яндекс-деньги - 410012637140977