| | |
| --- | --- |
| | |
| Forum moderator: no1Z1e | |
Sireirom
no1Z1e
Date: We, 17.01.2018, 18:14 | Post # 1

General

Group: Moderators

User #41
Male
Ashqelon
Israel
Reg. 15.12.2013 13:45




Electronical female-fronted project formed by Rakshaza in 2013. Music is based on the distorted electronic sounds and contains deep dark and seductive atmosphere. The lyrics tell about dark side of the human nature.

no1Z1e
Date: We, 17.01.2018, 18:16 | Post # 2

General

Group: Moderators

User #41
Male
Ashqelon
Israel
Reg. 15.12.2013 13:45






Sireirom - Wicked Senses (2015)

Label: Self-Released
Format: Digital Album
Country: Russia
Style: Dark Electro




Tracklist:

01. Rise In Madness
02. Hateful
03. The Last Goodbye
04. Deadhead
05. Bonedance
06. Dark Delight (Your Revenge)
07. The Punishment
08. Slave
09. Kingdom Of Dreams
10. Swamp



no1Z1e
Date: We, 17.01.2018, 18:17 | Post # 3

General

Group: Moderators

User #41
Male
Ashqelon
Israel
Reg. 15.12.2013 13:45






Sireirom - Delirium (2017)

Label: Synth-Me
Format: Digital Album
Country: Russia
Style: Dark Electro, Electro-Industrial, Aggro-Industrial




Tracklist:

01. Wound
02. Demon of the Past
03. Nightmares
04. Grave
05. Pleasure Palace
06. Synthetic Dreams
07. DPDR
08. Dysphoria
09. Passion and Pain
10. The True Value of Life
11. Thorns
12. Faster. Harder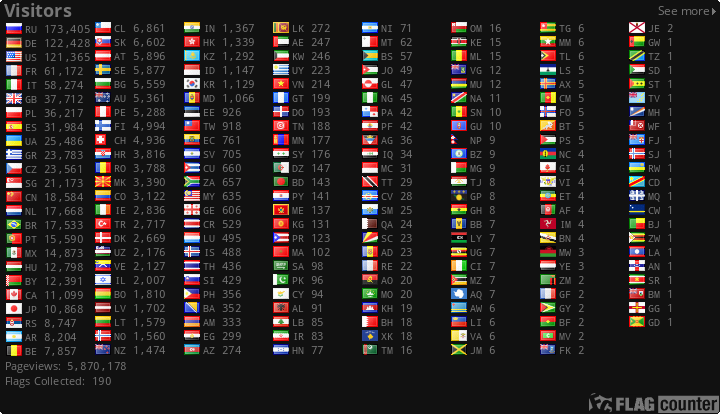 счёт форума в яндекс-деньги - 410012637140977