| | |
| --- | --- |
| | |
| Forum moderator: no1Z1e | |
Anna Von Hausswolff
no1Z1e
Date: Sa, 17.02.2018, 01:51 | Post # 1

General

Group: Moderators

User #41
Male
Ashqelon
Israel
Reg. 15.12.2013 13:45





Anna Michaela Ebba Electra von Hausswolff (born 6 September 1986 in Gothenburg) is a Swedish singer, pianist, organist and songwriter.

She released her debut single, "Track of Time", on 5 February 2010, followed by the debut album Singing from the Grave. The album was very well received by the Swedish press. She played the Way Out West Festival in 2009. In March 2010 she opened for Tindersticks on three occasions and toured Brazil with Taken by Trees and Taxi Taxi! Then in 2011 she opened for Lykke Li thrice, and also for M.Ward at the Royal Dramatic Theatre in Stockholm. She has played at several big festivals in Sweden such as Peace and Love, Storsjöyran, Way Out West, Arvika, and Made Festival. Hausswolff is noted for her expressive voice and her live performances, and is sometimes compared to Kate Bush.

On July 9, 2013 Ceremony was released in North America by Other Music Recording Co., and Anna von Hausswolff played her debut US show on July 10 at Glasslands Gallery in Brooklyn. The album received strong support from National Public Radio's Bob Boilen, who said "Von Hausswolff's voice possesses the power to soar with those mighty pipes and still hold tight to delicate, personal emotions. I hope to find one album like Ceremony every year — a rare, thoughtful, inspiring record for a night on the couch or a candlelit evening — and now I've got one for 2013." She was also featured on NPR Weekend Edition Saturday, PRI's The World, WNYC Soundcheck, the New York Times, Pitchfork and more.


no1Z1e
Date: Sa, 17.02.2018, 01:53 | Post # 2

General

Group: Moderators

User #41
Male
Ashqelon
Israel
Reg. 15.12.2013 13:45






Anna Von Hausswolff - Dead Magic (2018)

Label: City Slang
Format: Album, CD
Country: Sweden
Style: Ethereal, Dreampop, Trip-Hop




Tracklist:

01. The Truth, the Glow, the Fall
02. The Mysterious Vanishing of Electra
03. Ugly and Vengeful
04. The Marble Eye
05. Källans återuppståndelse



no1Z1e
Date: Mo, 13.08.2018, 20:48 | Post # 3

General

Group: Moderators

User #41
Male
Ashqelon
Israel
Reg. 15.12.2013 13:45





Nyxtopouli
Date: Sa, 11.07.2020, 18:29 | Post # 4

Major

Group: Uploaders

User #24

Male

Thessaloníki

Reg. 15.12.2013 07:24


Anna von Hausswolff ‎– The Miraculous (2015)


Nyxtopouli
Date: Sa, 11.07.2020, 21:49 | Post # 5

Major

Group: Uploaders

User #24

Male

Thessaloníki

Reg. 15.12.2013 07:24



Anna Von Hausswolff ‎– Ceremony (2012)


Nyxtopouli
Date: Su, 12.07.2020, 01:10 | Post # 6

Major

Group: Uploaders

User #24

Male

Thessaloníki

Reg. 15.12.2013 07:24


Anna von Hausswolff ‎– Singing From The Grave (2010)


no1Z1e
Date: Th, 01.10.2020, 17:24 | Post # 7

General

Group: Moderators

User #41
Male
Ashqelon
Israel
Reg. 15.12.2013 13:45




Anna Von Hausswolff - All Thoughts Fly (2020)


Nyxtopouli
Date: Tu, 02.02.2021, 02:52 | Post # 8

Major

Group: Uploaders

User #24

Male

Thessaloníki

Reg. 15.12.2013 07:24

Anna von Hausswolff ‎– All Thoughts Fly (2020)

Available to users only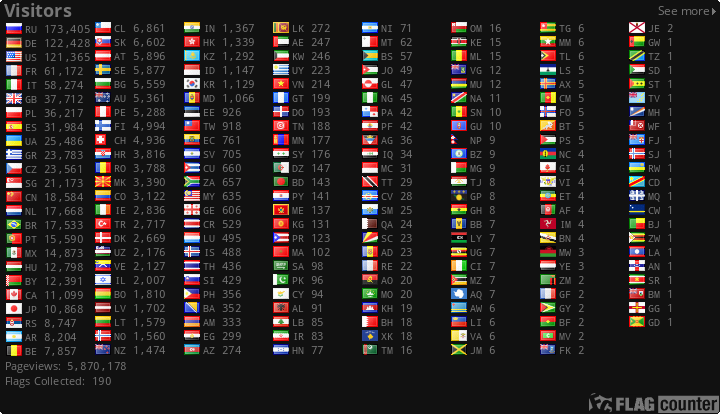 счёт форума в яндекс-деньги - 410012637140977